Borad Member Profile
---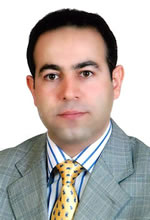 Dear Visitors,
First of all I would like to convey my sincere gratitude to our loyal clients who constantly support us. We also need to share our success happiness with Global team work because of their relentless efforts to make this come true. I firmly thank you all around the world.
Through the two last decades I explored enormous Business pleasure to challenge service quality either in Transportation Industry as well as Construction and mining Business.
To ensure a distinguish service delivery we absolutely require CRM (Customer Relationship Management) for which we are inherently motivated and educated.
I believe our today robust marketing position is undeniably because of yesterday glorious services and strong team work spirit which contributed to our clients commercial goals.
We confidently work and invest on service diversification to fulfill your ever growing Transportation service requirements as best as you need.
We remain.
Ali Reza Mohammadi
Board Member
Speaking Language: English
Birth date & Educations
1972
Born in Tehran
1991
Electrical Diploma from Tehran High School
1998
B.A in Marketing Management from Tehran
2001
MBA from University of Tehran
2001
Start engineering chapter with Caterpillar i.e. switched from Transportation to construction Business
2001-2007
Various Technical & Marketing courses completed in Switzerland, France, Germany, Italy, Spain, Belgium
and Netherlands
Work Experiences
1993-98
Iran Tarabar / GLI
Customs man, Trucking Import supervisor
1998-99
Grash Darya / Hyundai Line
Export supervisor (Iran Tarabar sister Co.)
1999-2001
Bar Avaran Iran / Capital Container Line
Export Manager (Iran Tarabar sister Co.)
2001-2004
Caterpillar/Iran Dealer
Construction and Mining & Power Generation Deputy Manager
2004-2006
Wirtgen GmbH
Exclusive Rep in South of Iran for Wirtgen Group Road
Construction machineries
2006-Today
ABkouh/Wirtgen official Dealer
Managing Director